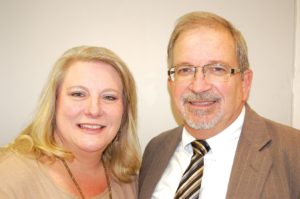 Alcorn Association missions director Kenny L. Digby was chosen Sept. 29 as the new executive director-treasurer of the Christian Action Commission (CAC), the Jackson-based agency of the Mississippi Baptist Convention that addresses moral, social, and ethical issues. He succeeds Jimmy Porter, who retired in April 2015 after 15 years in the post.
"Dr. Kenny Digby was chosen due to his deep love for Christ and His church. He has a dedicated discipline for study and memorization of the Scriptures," said Rodney Anderson, CAC chairman and pastor of First Church, Mendenhall. "His astute understanding of ethical and moral issues is evident in his living and preaching,
"He will be at home in all of our churches, associations, and schools no matter the location or size. We know him to be a committed family man and defender of truth and morals. The only losers in this choice will be Satan and those who want to promote and spread immortality in Mississippi."
Jim Futral, executive director-treasurer of the Mississippi Baptist Convention Board in Jackson, said, "It has been my privilege to have known Dr. Kenny Digby throughout his service to the Lord as an effective pastor and an often-used speaker in our churches and associations.
"He brings a wealth of experience that is not confined to the inside walls of the church. He has been involved in the world beyond the doors of the church. Beyond experience, he brings a desire to help our churches as they struggle with issues and challenges in seeking to be Christian in an ever-increasing secular world."
Digby, age 64, was born in Tupelo and raised in Fulton. He has been Alcorn Association's missions director since 1998. He holds a bachelor of arts degree ('74) from Baptist-affiliated Blue Mountain College in Blue Mountain; a master of divinity in biblical studies degree ('76) from New Orleans Seminary; and a doctor of ministry in biblical studies degree ('79) from New Orleans Seminary.
He has served as pastor of Friendship Church in Baldwyn (1970-74); Mount Pleasant Church in Fulton (1975-80); and Afton Grove Church in Jacksonville, Texas (1980-82). He was a full-time evangelist from 1986-98. He has also served since 1970 with the Church for the Crisis radio and television ministry in Fulton.
Digby has been an adjunct professor at New Orleans Seminary/ North Mississippi Extension since 2007, and was director of the North Mississippi Extension for the seminary from 2013-14. He was a full-time professor of practical theology from 1980-86 at the Baptist Missionary Association Theological Seminary in Jacksonville, Texas, an adjunct professor at Blue Mountain College in 2005, and part-time professor of Bible and philosophy at Itawamba Community College in Fulton from 1976-80.
He and his wife Becky are members of Oakland Church in Corinth and have four adult children: Stan (Stephanie), Bailey, Kaleb, and the late Austin. They also have two grandchildren.
"We are delighted that Kenny Digby will serve as executive director-treasurer of the Christian Action Commission," said Wayne Kimbrough, chairman of the search committee and pastor of Salem Church, Raymond. "He is a devoted student of the Word and has a passionate desire to communicate its truths. He is a gifted leader with a servant's heart. We look forward to joining with him in seeking to further the cause of Christ."
Digby projected a start date of Nov. 1. "I am grateful for the opportunity to work with the Christian Action Commission, our state convention, and Dr. Futral. I look forward to being part of a team effort to do kingdom work throughout our state. I want to be available to our churches and associations. Call me if I can be of service," he said.
Digby also expressed appreciation to the search committee that brought forward his recommendation for the CAC post. In addition to Kimbrough, search committee members included:
– Tammy Pearson, member of First Church, Jackson.
– Dan Robertson, pastor of Friendship Church, Sturgis.
– Diane Thompson, member of Oakland Church, Corinth.
– Roy Dabbs, pastor of Oak Grove Church, Meridian.
– Rodney Anderson (ex-officio), pastor of First Church, Mendenhall.
A long range study committee, appointed by messengers to the 1963 annual meeting of the Mississippi Baptist Convention, recommended the creation of a commission that would be involved in issues affecting churches, homes, and the state's citizens. Twelve Mississippi Baptists were appointed to the Christian Action Commission the following year.
The Christian Action Commission is funded by gifts to the Mississippi Cooperative Program.